Avon Lipstick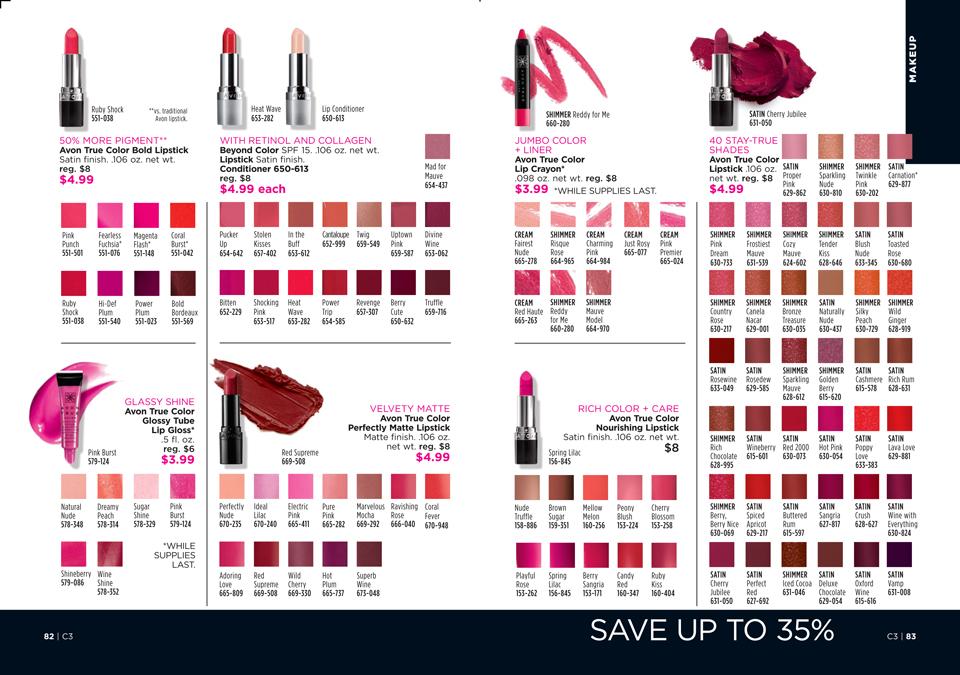 via Welcome http://bit.ly/2FKNuAZ
3 Simple ways to shop with Avon online
1.
Shop My Avon Website
- Shopping on my Avon website allows for you to shop when and where you want! You can shop by individual categories such as skin so soft, mascara, eye shadow, shower gel, eyeliner; the Avon product list goes on and on!
2.
Shop My Avon brochure online
- You can shop my Avon brochure online! This allows for you to click an item, select the quantity you want and keep flipping through the Avon brochure on your computer, phone, or tablet!
3.
Shop by Avon Product Number
-If you have already ordered with Avon before or you have an Avon Brochure with you now, you can shop by using the 6 digit product number that is located right next to the Avon product you want. You also have the capability of shopping from the 2 previous Avon brochures! This option is my favorite because you can compare brochures and get the best prices available!!
Join Avon Team Elite Diamonds Today!
Not yet an Avon Representative? Join TODAY for only $25!!
1. Go to
www.Startavon.com
2. Fill out simple form
3. Enter reference code: KKARPOWITZ
4. Pay fee and submit application
5. CONGRATULATIONS!! You are now an official Avon Representative and your own boss!
6.
Visit our team (Avon Elite Diamonds) Homepage
and start learning how to become a successful Avon Representative!!
Want to shop the current Avon brochures online?
Kim is an Avon Independent Sales Representative and national leader!! She loves the outdoors, spending time with her family, and going on dates with her handsome husband!! Kim holds the Silver Leader title and is the Team Leader of Avon Team Elite Diamonds with team members in over 27 different states! Kim began selling Avon in June 2015 and lives in Texas! She joined Avon to supplement her family's income and allow her husband to go to school to receive his doctorate degree! Kim runs her business mainly on social media! Kim has achieved many incentives including earning over $1,040.00 with the Journey to Gold incentive! She achieved the HIT $100 incentive where she earned $100 cash bonus and over $100 in Avon products and samples! The HIT $100 incentive required her to place a minimum of $100 in sales in her first 5 campaigns! Kim is also one of the top-performing contenders in Avon's 130th Anniversary bracelet incentive! She also earned an Avon button and Avon tote in the One Team One Dream Incentive!!! Kim has also earned a Car Kit in build like a boss incentive, the AVON pin in the pinning streak incentive, the Apron, Tote, Ear Buds, and Car Magnet during the shake up your sales incentive, and during the cruise like a boss incentive she earned the Avon beauty case, tote, and rolling suite case! Not to mention the thousands of $$$ she has earned in Avon bonuses! Kim is so excited to have you joining her on this journey for yourself and to help others learn to love themselves from the inside out! She has always had a passion for beauty and cosmetics and feels the focus of makeup is to ENHANCE the natural beauty, not change it! If you have not already, join her on this journey to help others learn to love themselves from the inside out by going
HERE
!